An eStatement is an electronic version of your account statement that is available to you through online banking.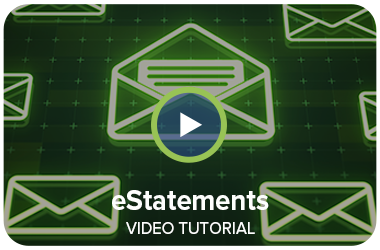 eStatement Benefits
Get Your Statement Earlier: On the first or second business day of the month, you will receive an email letting you know that your eStatement is ready to view, while it may take 7-10 business days to get your paper statement in the mail.
Same Look: eStatements look the same as paper statements!
Money-Saving Benefits: Printing and mailing paper statements is very costly for your credit union. When we can spend less on printing and mailing statements, we can invest more in product and service innovation and give more back to our community!
Reduce Clutter: Not only will you save your mailbox (and your countertop and file cabinet) from a bulky envelope each month, but you'll also be doing the planet a favor when you choose to go paperless. You can access your eStatements online for six months, and if you need to access an older statement, just give us a call. We also recommend that members save their eStatements to their computer for easy access in the future.
Keep Your Account Information Safer: Reduce your chance of mail fraud or identity theft when you choose to access your statement online.
Plus, eStatements are FREE!
Enrolling is Easy
To get started with eStatements:
Log into your BCU account through online banking.
Click on the eStatements link under Accounts.
Select your Member ID and click "Continue."
Click the green "Enroll" link.
Click the button under "eStatement."
Click "Submit."