Address
2006 Schofield Ave
PO Box 199
Weston, WI 54476 (View Map)
Phone: 715-359-7012 Fax: 715-355-5295
Lobby Hours:
Monday - Thursday 8:30 a.m. - 4:30 p.m.
Friday 8:30 a.m. - 5:30 p.m.
Drive-up Hours:
Monday - Thurs 8:30 a.m. - 5:00 p.m.
Friday 7:30 a.m. - 5:30 p.m.
Saturday 9:00 a.m. - 12:00 noon
Shared Branching Services
Share Branching offers BCU members access to another 5,700 branches!
Besides our home office, Brokaw Credit Union cooperates with other credit unions as part of the CO-OP Shared Branch network, giving you convenient account access at more than 5,700 locations nationwide!
What transactions can I do?
Whether you're across town or across the nation our partnership with other credit unions gives you the ability to perform a wide range of transactions, such as:
Deposits and Withdrawals
Transfers
Loan payments
Balance Inquiries
Teller Checks
Money Orders
Access to VISA® or MasterCard® funds
Since services vary from one location to another, check with individual branches before your visit for a complete menu of available services.
Please note: checks cannot be cashed; rather they may be deposited into your account with a hold, and if you have a compensating balance in your account, the same amount may be withdrawn. Also, the daily withdrawal limit varies by state.
What must I bring along?

Bring a valid photo ID, your account number and last four digits of your Social Security Number; you'll be provided a Shared Branching transaction ticket. Visit any branch you see the CO-OP Shared Branch name and "triangle" logo!
How do I find a Shared Branch?
It's easy to find a CO-OP Shared Branch near you, simply:
Call 1-888-SITE-CO-OP (1-888-748-3266)
Download the free Apple or Android app at "CO-OP Shared Branch"
Look for the CO-OP Shared Branch "triangle"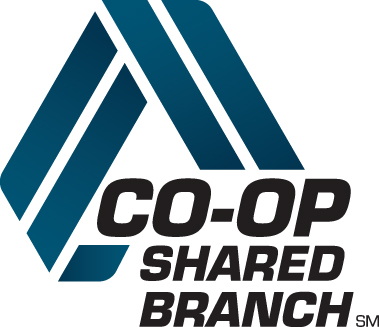 Our CO-OP Shared Branches are another way for you to stay connected with Brokaw Credit Union.